Orang ARAB BELUM BANGKIT MACAM WARGA LEBENON....INI UMNO-PAS-BERSATU-GPS-BN PERLU DITANAM MACAM JAGUNG AGONG-SULTAN SUPAYA KERJA KUAT AWAK ADA BAWA KEMUDAHAN...BUKAN AIR PAIP KELANTAN PERLU 40 TAHUN BAIKI...KINI LEBENON HANYA ADA 2-3 JAM LETRIK SEHARI...INI SEMUA KEJAYAAN AL-LAH KARUT QURAN ISAM MUHAMMAD!!
HISTORY CAN BE RE-WRITTEN AND DESTINY IS IN THE HANDS OF SABAH-SARAWAK TO SACK MALAYA...STUDY IN ENGLISH AND SPIT COVID 20 ON BAHASA BANGSAT-KAN MALAYSIA.....IF THESE STUPID MUHAMMAD QURAN ARAB MALAYS CANNOT SEE THE DIFFERENCE BETWEEN THE 2 NATION......THEN 13 NEW NATION IS YOUR GIFT FROM AL-LAH SOON!!
SABAH-SARAwAK BANGKIT PECAT MALAYA......

ASALKAN BUKAN GPS ISLAM SESAK KAT SARAWAK.....GPS ADLAH PARTI MCO, COVID 19 DENGAN UMNO-PAS RU355 PAKSA AWAK MASUK ISLAM SUPAYA DAPAT TANAH, DUIT YANG MEREKA CURI DARI AWAK!!..

..SAY NO TO GPS IN THE COMING ELECTION AND VOTE HARAPAN.....AND SACK MALAYA WITH SABAH-SARAWAK LIKE MALAYA DID TO SINGAPORE......NEW NATION SABAH-SARAWAK......SINGAPORE DREAM IN MOTION.......WEAPONISED THE NEW COVID-20 AGAINST ANY AGONG-SULTAN ISIS PDRM ARMY INTERVENTION........ YOU NOW HAVE YOUR OWN WEAPONISED DREAM AGAINST THE WEAPONISED ISLAM< BAHASA BANGSAT MELAYU & FAKE SULTAN-AGONG ISLAM WEAPONS..... ONE UNSEEN WEAPON AGAINST THEIR AXIS OF EVIL ISLAM SUPREMACIST SYSTEMIC GENOCIDE MECHANISM......USE IT!!!

SO SABAH MUST NOW SPIT COVID 20 ON BAHASA MALAYSIA AS MEDIUM OF EDUCATION.....DON'T WASTE TIME ON JOBLESS MALAY SUPREMACIST EDUCATED PEOPLE......THE USELESS HAVE MADE MALAY USELESS UNEMPLOYABLE PEOPLE BECAUSE OF THEIR DESIRED TO BE CHEATED BY THE QURAN MOHAMMAD FRAUD....
ISLAM HAVE MADE MALAY SUPREMACIST STUPID....LET THEM SUFFER....PROGRESS LIKE SINGAPORE AND DON'T WAIT ANOTEHR 64 YEARS AND SEIZED THIS COVID PANDEMIC TO SACK MALAYA NOW!!!
SH*T HOLE IN MOTION FOR MALAYA STARTING FROM #1 SH*T HOLE KELANTAN DARUL SULTAN HIDUP MEWAH, KAHWIN KHALWAT DENGAN IZIN HADI PAS KELENTONG AGAMA ISLAM!!!!
FOREIGNERS AVOID INVESTING IN APARTHEID HAGIA SOFIA MALAYSIA....ALL YOU INVESTMENT WILL BE SIZED AND CONVERTED TO ARAB MALAY ISLAM ENTITIES IN THE YEARS AFTER YOUR HARD WORK...LIKE IN ZIMBABWE....SOUTH AFRICA....AND ALL THOSE DESPOTIC SUPREMACIST RACE NATION THAT WANTS TO BE SH*T HOLE......LIKE THOSE SMALL DURIAN PLANTERS IN PAHANG...STATE OF CURRENT FAKE MURAL DEFACE AGONG.....WHEN THINGS ARE BAD ITS THE ISLAM, BAHASA STUPID MALAYSIAN AND INSULT AGONG WEAPONS BEING PULLED OUT.....WE GIVE THEM HELL THIS TIME....BREAK MALAYSIA UP PROPER!!....RETALIATE AND HIT BACK UNSEEN, UNHEARD, UNDETECTED LIKE COVID 20 HYBRID SPREADING IN MUSLIM SURBURBS, TABLIGH, MOSQUE, SHOPS AND KAMPUNG!!!

..MALAYSIAN ALL HATE THE CURRENT ESTABLISHMENT.....SO USE THE COVID 20 HYBRID VIRUS AND SPREAD IT RIGHT ACROSS MALAYSIA INTO THE HEART OF THE MALAY ISLAM TERRORIST MOSQUE, SURAU, KAMPUNG AND ISIS CENTRE.......WEAPONISED IT LIKE TURKEY WEAPONISED ISLAM AGAINST LIBYA, EGYPT, SYRIA, KURDS, WEST.....THE MAKING OF TURKEY SH*T HOLE ALSO IN MOTION...BECAUSE THEIR LIRA RINGGIT IS BECOMING ZIMBABWE RINGGIT.......CURRENCY COLLAPSE OF RINGGIT ISLAM SUPREMACIST ECONOMY AND CURRENCY IS BECOMING REAL IN MALUSIAL!!
UMNO-PAS-BERSATU-GPS-BN SULTAN AGONG CONDEMN CHINA ON COVID -19 & UIGHUR MUSLIM GENOCIDE AND ROHINGYAS GENOCIDE...WHILE AT THE SAME TIME CONDUCTING MALAYSIA OWN SYSTEMIC GENOCIDE OF ORANG ASLI AND INDIGENOUS PENAN, IBAN, KADAZAN, MURUT IN MALAYSIA........

GO TO HELL PARIAH KATAN ISALM SUPREMACIST MALAY MALAYSIAN IS THE SAME AS FAKE BUMIPUTERA!!...SHAMELESS LIES IS ISLAM QURAN TEACHINGS & IDEOLOGY!! ...LEAVE ISLAM NOW!!
LEAVE MALAYSIA AS MALAYSIA IS UNDER TESTING, UNDER REPORTING...AND FUDGING COVID 19 FIGURES FOR ELECTION....NORMAL DEATH COMPARED TO LAST YEAR IS 55% HIGHER.....THAT IS A HUGE INCREASE IN DEATH ...WHO CARES MOST ARE THE ARAB MALAY SUPREMACIST TABLIGH RACE....

JUST AVOID ISLAM, HALAL, MALAY SUPREMACIST RACE AND FOOD....SACK THEM FROM YOUR COMPANY BECAUSE NO HELP IS COMING FROM THE RACIST TO HELP YOU IN THIS COVID 19 PANDEMIC......ITS SURVIVAL MODE NOW!!
Polis Pergi Siasat Kelapa Otak PDRM ISIS Puak UMNO-PAS Yang melakukan ini terhadap Bangsat Ketua Mereka......KITA SOKONG..>SIASAT BAPAK AWAK IGP DODOL BODOH MAKAN RASUAH HINA Orang Asli!!...GENOCIDE KAT KELANTAN TAK SIASAT.....Perkara Remeh-temeh Siasat.....Harap AWAK DAN SEMUA KELUARGA AWAK KENA Covid 20....Covid BARU YANG HINA ORANG ISLAM MELAYU KORRUPSI SUPREMACIST DAH DILANCARKAN!!!......6 Bulan.....
Melayu Tulin Mula BENCI Semua Arab Melayu MUNAFIQ ISLAM UMNO-PAS BERSATU-GPS BN -BANGSAT NEGARA.....Kononya dibuat lagi Parti Harapan....TAPI MEREKA ADALAH ORANG UMNO-PAS JAWI ISLAM Yang NAK Buat Kucar Kacir Kerana Negara MALAYSIA SAMA TURKI DAH BANKRUPT....ITULAH SEBAB NAK ISLAM, JAWI, SULTAN-AGONG DI PAKSA CINTA ...DAN LUPAKAN KEBULURAN, KESEKSAAN Pariah-KATAN Terhadap AWAK, MEMBENUH ayah, emak, nenek Atuk AWAK DENGAN COVID 19..... Macam Tukki...BILA NEGARA BANGSAT....Islamkan Penang HILL...JADI GUNUNG MOHAMMAD ISLAM...MOHAMMAD SALADIN BANGSAT NEGARA...TUKAR LAGI NAME JALAN JADI JALAN BANGSAT ISLAM JAWI SUPREMACIST.......ITULAH SEBAB>>>>GPS DARI SARAWAK PERLU DIBUANG...>SEKALI GUS SABAH-SARAWAK..>PECAT NEGARA BANGSAT& BANKRUPT MALAYA....>BUAT APA KERJA KUAT BINA TABUNG HAJI, FELDA, PETRONAS....NAMUM MEREKA YANG ISLAM TERUS CURI DARI SEMUA PERBADANAN MELAYU SIAL ISLAM UMNO-PAS-BERSATU-GPS-BN Bangsat Negara!!
Patut MUKA Agong Sultan Pahang Kena Sebab NAK CURI Harta Orang yang Bersusah Taman Musang King...KINI NAK PAKSA Mereka Jual Kepada DIA Supaya AGONG BOLEH JUAL DENGAN HARGA YANG LEBIH PENGUNTUNGKAN....>SAYA HARAP SEMUA PENANAM DURIAN...JANGAN DENGAR PAKSAAN INI DARI NABI ISLAM SUPREMACIST UMNO-PAS-BERSATU-GPS-BN BANGSAT NEGARA..... Makan Durian Sendiri dan Jual Sendiri...Kalau DIPAKSA
Keluar TANAH ITU....BAKAR DAN BUNUH SEMUA MUSANG KING MACAM PUAK ORANG PUTIH BAKAR DAN HAPUSKAN LADANG MEREKA KAT ZIMBABWE DAn AFRIKA SELATAN.....DAH TIBA MASA HAPUSKAN MALAYA SEKALI GUS!!..>JANGAN BAGI SESEN KEPADA PENYAMUN MELAYU UMNO-PAS-BERSATU-GPS-BN Bangsat Negara INI..... SABAB-SARWAK PECAT MALAYA...Belajar DALAM INGGERIS....MAJU MACAM SINGAPURA....BIAR MALAYA MAMAPUS...KITA AKAN HIJRAH KE SABAH-SARAWAK SELEPAS MALAYA DIPECAT....MALAYA ITU TAHI LUBANG....SH*T HOLE....NEGERI KELANTAN DAH JADI TAHI LUBANG- SH*T HOLE PERTAMA...SEMUA KERANA RAHMAT PENIPU ISLAM NABI MUHAMMAD ...ISLAM ITU AGAMA TIPU AWAK DAN BODOHKAN AWAK....,,,KABBA ITU APASAL HITAM?? SIAPA SURUH SEMBAH-CIUM BENDA HITAM ITU??....KAN ORANG ISLAM DILARANG SEMBAH PATUNG MACAM AGAMA BUDDAH, KATHOLIK, HINDU.....ITU LAH TULISAN SONGSAN NABI OTAK YANG IKLAS....DALAM QURAN...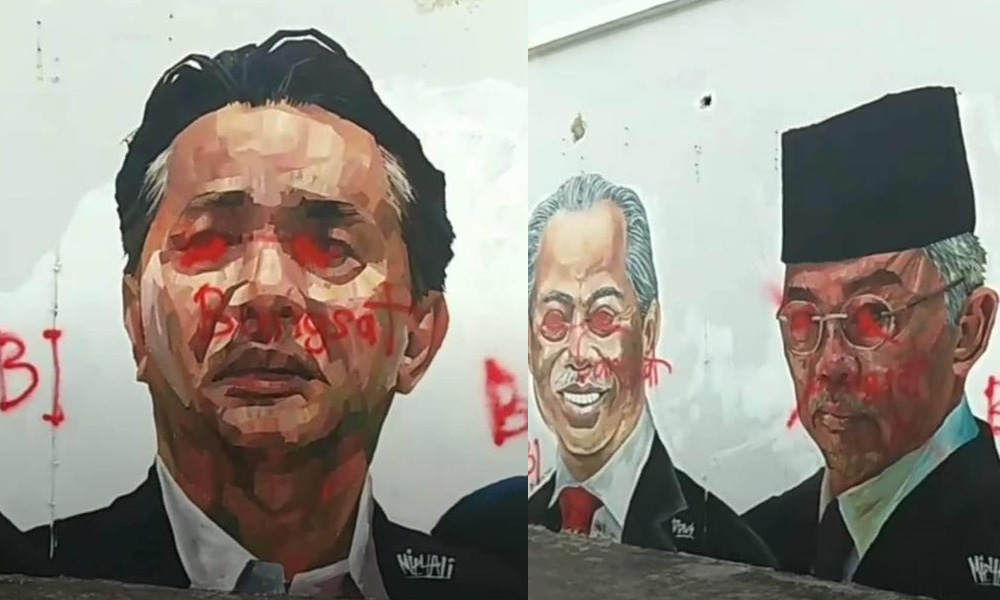 All those who enter heaven ....Allah will make you white....DO YOU Accept this RUBBISH, HADITH FROM QURAN AND KEEP BEING A STUPID MUSLIM......Al-LAH IS RACIST!!!...ALL FRAUD QURAN SPEAKS OF RACISM, GENOCIDE AND A FAKE ULTIMATE RACE....REJECT ISLAM, QURAN ISLAM FOR YOUR OWN SURVIVAL...EMBRACE OTHER RELIGION!!!...YOU HAVE BEEN WARNED!!
Right Shoulder from Allah are white and Left Black...and to those white can go to Heaven....Allah don't mind.... and those Black go to Hell and Allah don't Mind!!
Stone become black from the SIN OF MANKIND IN KABBA.....previously white and can kiss the IDOL yet ANY IDOL Worship is FATWA HARAM IN QURAN.......the FRAUD OF MOHAMMAD QURAN CONTINUES TO BLIND MALAYSIA ARAB MELAYU ISLAM FOREVER....>ENJOY THE SUFFERING OF COVID-20 Hybrid Corruption VIRUS UNLEASHED TO ARAB MALAY SUPREMACIST CLUSTER.......DAILY, WEEKLY AND INTO THE FORESEEABLE FUTURE.....THIS IS THE WEAPONISED WEAPONS AGAINST THE ISLAM, RACE AND FAKE SULTAN-AGONG WEAPONS OF MASS DESTRUCTION CONSTRUCTED IN MALAYSIAL!!!....