Neelofa TALIBAN pun boleh pergi Mampus dengan Terrorist Preacher...Lebih baik Keluar Islam Kalau nak elak kematian Covid 20,21 yang sering berjangkit terhadap Umat islam Arab Melayu Yang tak erti apa dia tidakan Genocide terhadap Orang Asli yang TOLAK ISLAM BERAMAI-RAMAI..... Cepat sebelum Drone Semut, lalat, nyamuk, angin TERSEBAR TERHADAP RUMAH DAN KELUARGA AWAK....SUNTIKAN VAKSIN HARAM Pfizer, Sino-Babi, Moedena-Isreal akan BAWA MAUT KEPADA AWAK KE NERAKA.....AYUH KELUAR ISLAM SEBELUM TERLAMBAT...INI AMARAN TERAKHIR.....CERAI SUAMI AWAK DAN KELUAR ISLAM SECARA SULIT.....
PADAN MUKA - Science, Technology and Innovation Minister Khairy Jamaluddin ACCIDENT OVER A POT HOLE IN BANTING...... THIS IS FAILED IS ARAB MALAY ISLAM NATION OF MALAYSIA WANTING TO BE FIRST WORLD IN EVERYTHING WITH WORDS BUT NO ABILITY TO ACHIEVE...THEY THINK THEY ARE GODS OF HOPE AND WORDS...THAT EACH TIME THE STUPID JAIS MAIS JAKIM SHARIAH MULLAH SPEAKS ...ISLAM KRPA INCREASE IN NUMBERS. JUST LIKE MAKING STUPID BAHASA KHAT MELAYU JAWI AS GREAT HOPE OF THE NATION...ONLY TO SEE EVERYONE SENDING CHILDREN TO ENGLISH PRIVATE SCHOOLS AND TO CHINESE SCHOOLS.....MASUK SEKOLAH JENIS KEBANGSAAN CINA ADALAH HARAM DI MATA BANGSAT MULLAH MUFTI JAKIM....SEGERA KELUAR SEKOLAH CINA, TAMIL DAN PERGI MASUK SEKOLAH JENIS KEBANGSAAN TAHFIZ ISLAM BODOHKAN AWAK 63 TAHUN LAGI SAMPAI AWAK MAMPUS DENGAN WABAK COVID 20, 21 YANG AKAN SERING SERAK UMAY=T ISLAM ARAB MELAYU BERTUDUNG, JANGGUT, SONGKOK.....NAK ELAK WABAK KORRUPSI INI KELUAR ISLAM SECARA SULIT ...CEPAT DAN SEGERA...!!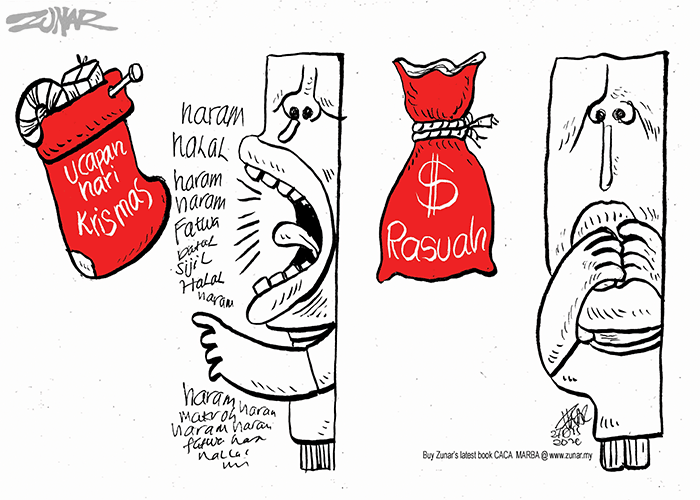 JUST LIKE WORKS MINISTER & DEPARMENTS APOLOGIZE FOR KHAIRY POT HOLE PADAN MUKA.....WE THE SPREADER OF COVID 20, 21 ARAB MALAY ISLAM SELF MADE PARIAH-KATAN GENOCIDE VIRUS APOLOGISE FOR THE MURDER AND KILLING OF DISPROPORTIONATE ARAB MALAY ISLAM RACIST SUPREMACIST MARUAH TAK ADA CITIZEN OF MALU SIAL!

PHYCOPATHIC, DELUDE EVIL MIND SET OF THE ENTIRE RULERS OF AGONG-SULTAN, LEADERS OF UMNO PAS BERSATU PEJUANG, PBB, GPS WARISAN BN BANGSAT NEGARA!!
ALL SIGN POINTS TO THESE ARAB MALAY ISLAMIC LEADERS AND RULERS KILLING, MAKING STUPID, MURDERING, MAKING SLAVES AND SUFFERING FOR THEIR OWN ARAB MALAY ISLAM SUPREMACIST RACE THEY REPRESENT BECAUSE THE QURAN FRAUD RELIGION HAVE BEEN SO INGRAINED IN THEIR PSYCHOTIC MINDS THAT RATIONAL THINKING HAVE BEEN DELETED FROM THEIR OTAK/BRAINS FOR 63 YEARS…. NEVER EVEN CONSIDERING WHY THE SINGAPORE ENGLISH AS #1 METHOD HAVE MADE SINGAPORE SO PROPEROUS AND YET WANTING TO FOR STUPID BAHASA KHAT TO ALL AND DRIVE THEM TO CONTINUOUS ROAD OF DEATH AND FAILURE!!...NO ISLAM BIAS RUN ADMINSTRATION(TABUNG HAJI, BANK BUMI, FELDA, PROTON, UNIVERSITY) STATE OR NATION IS ANY GOOD IN THIS WORLD...TO KEEP UP THE ARAB MALAY PRIDE TO RUN THIS ETERNAL BAIL OUT CORPORATION IS A DEATH SENTENCE TO ALL MALAYSIAN....THE ONLY WAY OUT IS TO SACK MALAYA FROM SABAH-SARAWAK, DECLARE EMERGENCY COVID CONTROL FOR YOUR BORDERS AND LEAVE MALAYA...AND LET MALAYA COLLAPSE TO 13 NEW NATION...TO EACH THIER OWN OR ELSE...DEATH OF EPIC PROPORTION AS THE WEAPONISED AND MUTATED IS BEING RUSHED TO MALAYSIA BY SPECIAL DELIVERY....FIRST TO THE POST BOX OF JAKIM, JAIS, MAIS, SHARIAH COURTS AND TABUNG HAJI PNB PETRONAS AND KHAZANAH USELESS ENTITIES!!!!!

PENIPUAN Allah(QURAN, MOHAMMED) oleh Christian Prince
131
Ayat ini memberitahu orang Islam agar tidak mengambil orang
yang tidak beriman sebagai sahabat, sambil mengabaikan mereka
yang beriman, kerana sesiapa yang berbuat demikian tidak
dilindungi Allah, melainkan anda mengambil mereka sebagai rakan
demi langkah keselamatan diri anda. Allah sendiri memberi amaran
kepada anda, dan bagi Allah semua ini adalah perintahperintahnya.
Akhir kata, seperti penerangan yang telah dilihat, orang Islam tidak
boleh berkawan dengan orang bukan Islam.
Orang Islam Boleh Berbohong Walaupun Ketika Mengangkat
Sumpah
Al-Quran 2:225 (Muhammad Habib Shakir):
Allah tidak memanggil kamu kerana apa yang sia-sia dalam sumpah
kamu, tetapi Dia akan memanggil kamu memikirkan apa yang telah
kamu usahakan dalam hati, dan Allah Maha Pengampun, Maha
Penyabar. (Surah Al-Baqarah, 225)
Lagi, dalam Al-Quran 5:89 (Muhammad Habib Shakir) kita baca:
Allah
memberi kebenaran kepada orang Islam untuk berbohong kepada
orang Kristian dan Yahudi. Dia juga berkata dia menyayangi orang
Islam yang berbuat demikian. Seorang Muslim mungkin mengaku
dirinya sahabat anda dengan mulut yang manis, tetapi sebenarnya
amat membenci anda di dalam hatinya.
(BUKU SUCI JENIS APA YANG BUAT DAN KATA BEGINI MELAINKAN BUKU TIPU FRAUD QURAN MOHAMMED ISLAM QURAN YANG BODOHKAN KAUM MELAYU ISAM ARAB MALAYSIAL!!! KEBODOHAN AWAK AKAN BAWA MAUT KEPADA KELUARGA DAN NEGARA AWAK...HANYA SATU JALAN ADALAH KELUAR ISLAM SERTA MERTA, BERAMAI-RAMAI...SEBELUM TENTERA COVID 20,21 SERANG & BINASA KELUARGA UMAT ISLAM AWAK..SEPERTI AWAK BINASA DAN CEROBOH KUIL HINDU, KRISTIAN, BUDDAH DAN TEMPAT TINGGAL ORANG ASLI...INI RAHMAT TUHAN KEPADA AWAK...BANJIR, HIDUP SENGSARRA, LAPAR & KEMATIAN KAMPUNG DAN TEMPAT TINGGAL AWAK...SAMPAI HOSPITAL PUN TAK SELAMAT MACAM SG BULOH, KEDAH, PAHANG JOHOR...SABAH-SARAWAK...SEMAU DISERANG JANGKITAN COVID KORRUPSI 20,21!)
YOUR STUPID BUDGET OF $330 BILLION RINGGIT WITH YEARLY ALLOCATION OF $10-20 BILLION IN YEARLY TOTAL TO SHARIAH, TABUNG HAJI, JAKIM, JAIS , MAIS ...YET ALL HOSPITAL COMBINE JUST GET $100-200 MILLION RINGGIT TO HELP YOU DEAL WITH COVID AND MORE DEATHS FOR MALAYSIAN CITIZEN.
LOOK AT SHAFIE APDAL ENJOYING THE SHAM WITH THESE UMNO SCUMBAGS AND TRYING TO BUILD SABAH BASE ON RACE AND ISLAM RELIGION.....PADAN MUKA YOU LOST SABAH CM POST AND LISTEN TO STUPID TUN DR M AS PM POTENTIAL....PERGI MAMPUS DENGAN COVID 20,21 UNLEASHED TO YOU AND YOUR FAMILY TOO....A GIFT FOR THIS 2020 MALAYSIAL PARIAH-NATION LED BY AGONG-SULTAN AND PARIAH MUHYIDDIN......