Have a look at this RACIST FACE UMNO-PAS Sultan Agong anti ICERD Arab Malay ENDORSED Tudung 100% Ex Spy Chief.... No wonder Tabung Haji, Sulu, Abu Sayaf Terrorist attack Sabah-Sarawak and Kelantan and Across Malaysia without REMORSE.....The FACE Itself is worthy of PUKE and Comparable to Hated Rosmah!!
Just look at the PIG Face...this is how Malaysia Arab Malay UMNO-PAS Sultan-Agong choose diligently their SPY Chief.... Paid in $ Millions Ringgit too..... Frankly the LOT is Worthy of THIS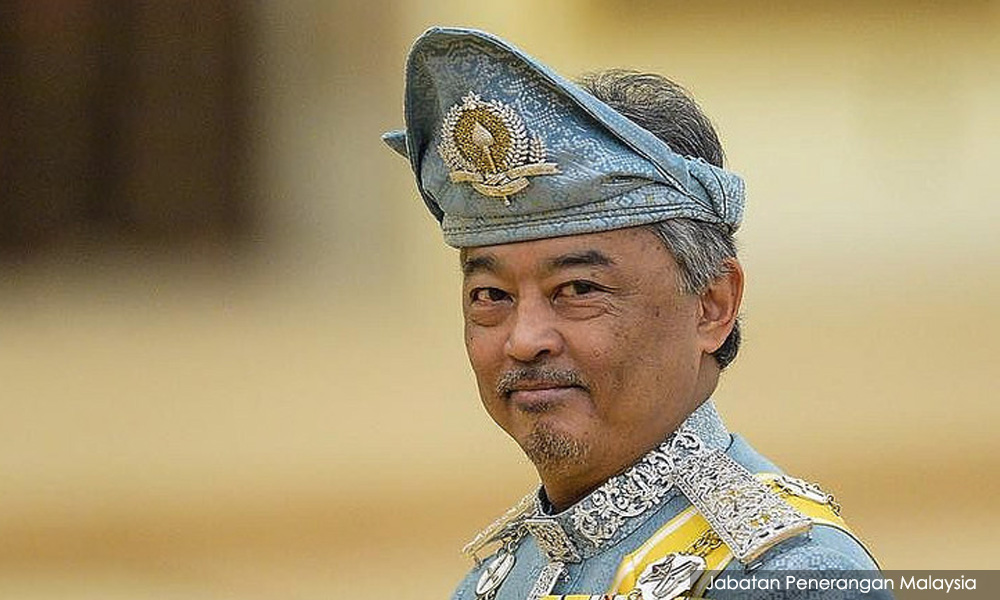 and this ,,,Speaking of Injustice and Magnitude of Hedious Crime of Agong-Sultan compared to Sultan Muhammad V - Ex Agong.... Coming in second is the above SCUMBAG Rapist Agong Father Sultan Ahmad Shah...Great friends of najib, Rosmah, Hissapmuddin......and we Malaysian trying to forget the HISTORY OF THEIR EVIL!!...
We have on the list Now the Rapist Sultan Ahmad Ahah of Pahang ....Son ...soon to Become next Agong, Sultan Murderer Son becoming Agong Next.... And Current Acting Agong - Sultan Nazrin Shah Son of Azlan Shah the Destroyer of Democracy in Perak 2009...ROBBER OF PERAK Throne of historic past.... ALL ARE Arab Malays RACIST ANTI ICERD SUPPORTERS of UMNO-PAS Scumbags NGO. THIS # SULTAN ALONE HAVE DONE THINGS WORST THAN CURRENT SULTAN MUHAMMAD OF KELANTAN....even though he is ALSO a SCUMBAG THAT NAJIB-ROSMAH BLACK MAGIC BOMOH Curse Helped Sultan Muhammad V to Dethrone his Still able Father
Sultan Ismail Petra Ibni Almarhum Sultan Yahya Petra
and call that "Proper Succession"....GO TO HELL!!...He had a mild stroke...him walking around is a testerment to ALL the FAKE SULTANATE of MALAYSIA SHAM and SCAM!!.. One more Scumbag is the Current Sultan of Selangor..Shafaruddin Shah.......HIS Antics is No different to that of Current Sultan Married to Russian Girl Sultan Muhammad V...... Current Sultan Selangor also married a American Beauty Queen and his Only Randy Beer Drinking son is a product of the NON Islam Mother....
ALL Non Malay Married to Sultan are Force Converted to Islam like Diksa Prasana...daughter of Mrs Gandhi...Still Waiting for Scumbag IGP and Police to Locate and return child before her Window to QUIT Islam Ends at 16 years old. Mrs Gandhi is waiting Police to enfore court order and still waiting 10 years NOW!!! GO TO HELL AND CURSES TO ALL FAKE ARAB MALAY UMNO PAS Anti Icerd RACIST SULTANATE ACROSS MALAYSIAL!!
Sultan Pahang, Johor, Perak, Kelantan are ALL LINKED By some FREAK Racist CURSED DNA family relationship......Current Sultan Pahang married to Sister of Sultan of Johor.... Sultan Johor married to cousin of Sultan of Perak but Father married to Sister of some Sultan of Kelantan Royalty(
Sultanah Tengku Nora binti Tengku Panglima Raja Ahmad, member of the Kelantanese royal household, married in October 1978. She is the sister of
Tengku Zanariah
(next Sultanah), the spouse of Sultan Iskandar... ALSO THE FIRST PERSON OF ISLAM SHARIAH COURT ORDER being Given a Divorce from the Grave of the Current Sultan Johor Father(the Caddy Murderer)
.....and the Great Grand Father of current Sultan of Johor also married the same sister of ex Sultan of Kelantan Royalty
Ismail Petra

...
LIKE USA...THESE SULTAN WANTS WALL AND HIGH SECURITY AND EDUCATION AND WEALTH FOR THEIR OWN KIND.....YET ORDINARY MALAYSIA SUFFER TERRORIST ACTS DAILY IN SABAH to Sulu, Abu Sayaf, Indonesia IS ISLAM ARAB Anti-Icerd TERRORIST sponsored by UMNO-PAS and Sultan-Agong-Govenor of Islmic Faith!!...Crime is starting to return in Malaysia IF POLICE DONT ACT QUICK on FINDING Force Convert to Islam Kid Diksa Prasana!!
And we have Scumbag of Hishahmudin Son of Hussein Onn married to the Pahang Royal household and Azmin of PKR have links to this UMNO Scumbag family as WELL!!...the Links and SHAM goes on and on....REPEL ALL SEDITION ACTS AND OFFICIAL SECRET ACTS....What the HELL EVEN SPM/STPM Markings also OSA....It proves that Malaysia EDUCATION SYSTEM IS RIGGED TO CONTINUE THE RACISM of UMNO-PAS Anti Icerd IDEOLOGY and Theology!! It is for this reason...Sabah Sarawak need to SACK Malaya and BEGIN THE SINGAPORE DREAM!!.... There is Little HOPE FOR RACIST MALAYSIA TO IMPROVE ON CURRENT FAKE HARAPAN GOVERNMENT.....
Where is the Repel of Sedition Act, Shariah, Jakim ,Jais, Racism...... Where is the freedom of press, religon...where is the ENGLISH Across National Schools...in parliament, courts..........ALL LIES Means ECONOMIC CRASH AND CHAOS COMING..>REMEMBER IN THE CHAOS CARVE OUT YOUR NATION AND MAKE ISLAM ARAB MALAY Anti Icerd Migrate to Pakistan, Afganistan, Saudi...... MALAYSIA IS A SECULAR NATION!!....Sack and REPEL those RACIST ANTI ICERD RACIST Supporters by HELPING THEM LAST!! That is HOW you REPEL THEM TO THEIR GHETTO!!!
LASTLY HOW IS IT THAT Chinese Datuk Siew Ka Wai and Elizabeth Ken... When REMANDED Have to Wear Orange ....YES ROSMAH, Najib, Zahid Hamidi and the rest of the UMNO-PAS Tabung Haji Robbers Arab Malays Scumbag when remanded DO NOT NEED TO WEAR Orange...Why DO WE NEED TO WEAR RACIST SONGKOK WHEN in Palace when WE ARE NOT MALAY..>TO HELL WITH THE RACIST IDEOLOGY AND PROTOCOL!!..

.BOYCOTT ALL ARAB MALAY Tudung, Burkah, Hijab, Songkok Traders and Business!!