So Sultan Sharafuddin Idris Shah Stop Being an Idiot and trying to Lecture Malaysia who are SICK of your TWO Face Hypocrisy Defender of ISLAM -Federation, Social CRAP Fake Sultan Contract when your Sister aka "Joan Collins" was Married Illegally and had Baby with Tan Sri with 2 Mohd ex Menteri Besar of Selangor. Which Part of this illegal Marriage of your Sister did your Bible Confiscating Shariah, JAKIM, JAIS and Killer of Sekolah Agama KIDS from recent Fire are the SANCTITY OF ISLAM YOU ARE TRYING TO PRESERVE?? Must be the Fake Munafiq, Haram islam!! Don't try to import your support of Hamas, Hezbollah, brotherhood of islam , Abu Sayaf, taliban, supporter of Zakir Naik bumiputera Citizenship, ideology into Malaysia... we WILL ABOLISH IT LIKE THE SULTANATE SOON Too. Its used by date is OBVIOUS to the Point of being A STINKER!!

The blaze at the Darul Quran Ittifaqiyah residential religious school in Jalan Keramat Ujung, Kuala Lumpur, on Thursday (Sept 14), will go down in the country's history as a fire-related incident with one of the highest death tolls...of 23 kids...... and the Fire Hazard Building is Own by your Keeping the Sanctity, Social contract of Keeping Malays of ISLAM Faith STUPID to your Cover up and Corruption Death.....so long as each family was paid $100,000 to KEEP THEIR MOUTH SHUT and Accept Death as ALLAH WILL like Zahid Hamidi Curse Indonesia Tsunami as on going discussion on LBGTIQXYZ CRAP!!
So its enshrine on the constitution that Malay of Muslim Faith need to keep dumb, stupid....never rebel to Sultan and Agong that have Supported Najib $1.2 Trillion Ringgit Debt Terror because ALL SULTAN WERE IN THE TAKE AS WELL..... NOW WE GO AND SEE WITH DOJ POWERS HOW MANY OF RULERS AND FAMILY MEMBERS HAVE TRACES OF THE MONEY STOLEN FORM RAKYAT MALAYSIA.....that came from 1MDB SHAM!! WE END THE FAKE SULTANATE NOW....

EXHUME First Indian Buddist Sultan of MALAYSIA, PARAMESWARA BODY....DO TEST AND SEE THE RAKYAT WITH THE HIGHEST DNA MATCHES TO PARAMESWARA WILL BE MADE KING OF MALACCA AND KING FOREVER OVER MALAYSIA...ALBEIT ON CEREMONIAL!!....AND SACK ALL THESE HIGH LIFE, RICH, LACKING DIGNITY, ARROGANT SULTAN-RULERS, LIVING IN THEIR OWN STUPIDITY BUBBLE THINKING THEY ARE GODS SPECIALLY CREATED BEING TO MAKE MALAY MUSLIM DUMB AND POOR!!
Yang sedihnya ada di antara mereka(SULTAN-AGONG) yang menganggap seolah-olah Sultan dan keluarga mereka adalah keturunan dewa-dewa yang diturunkan dari langit bagi menjadi payung atau pelindung rakyat!...chit poodah!!
CHITT ....POODAH....TO ALL YOU SULTAN TRYING TO PRESERVE YOUR EXISTENCE AND FAKE LEGACY ...DEFENDING CRIMINAL AND ROBBERS IN THE NAME OF NAJIB, ROSMAH, ZAHUD, IS ISLAM , HISSAPUDDIN, KHAIRY...and now RAKYAT HUTANG/ OWE $1.2 TRILLION RINGGIT!!......AND GO TO HELL!!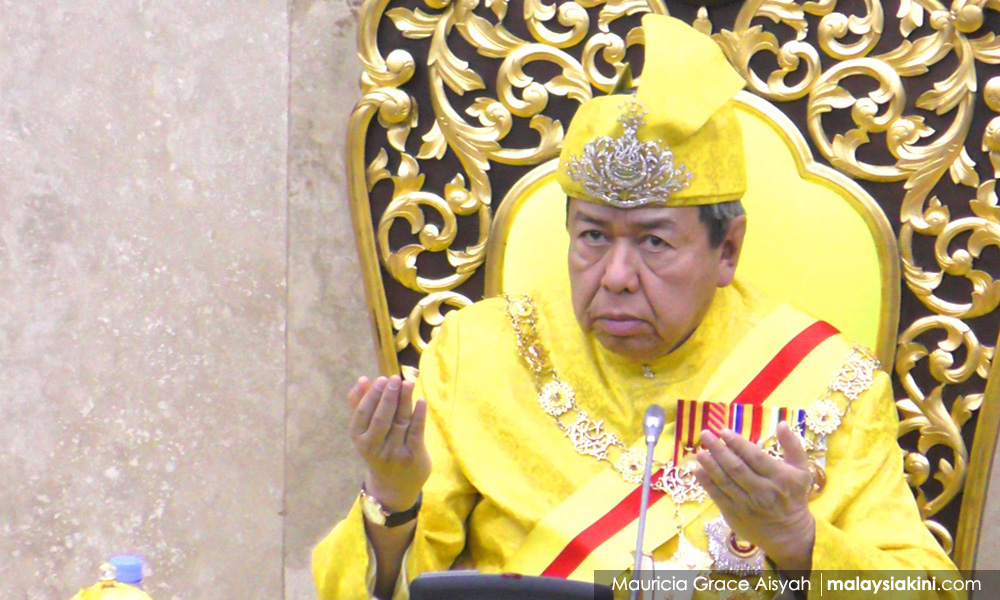 Sultan of Selangor(in a FAKE Holy prayer Gesture that FOOLS MUSLIM MALAY of UMNO-PAS-PKR DIM WITS ONLY), Sultan Sharafuddin Idris Shah said this group should not be allowed to continue inciting the people by bringing up and questioning the social contract agreed to by the majority races in Malaysia even before the country gained independence.
He said this was because the agreement was translated into the Federal Constitution adopted today.
"Although I have touched on the issues repeatedly, I will continue to speak out and stress that there will be no compromise on the attempts of a certain group to erode the powers and special rights that have been enshrined in this Federal Constitution.
"The role of Malay rulers in preserving the sanctity of Islam as the religion of the federation and preserving the special position of the Malays and the bumiputera without marginalising the rights of other races will continue to stand in the country and be defended," he said.